XRP underwent an extremely strong rally at the end of November. The cryptocurrency, as many remember, surged around 100% in the span of three days amid one of the most rapid bouts of price action in a high-cap crypto-asset since the 2017 rally.
At one point, the market became so disjointed and volatile that XRP traded as high as $0.92 on Coinbase. The cryptocurrency, the third-largest by market capitalization, peaked at $0.75 on most other platforms.
XRP has managed to consolidate and hold its post-rally prices despite selling pressure from large position holders. XRP, while down 4% in the past 24 hours, remains far above the prices it was trading at just a month or two ago.
Analysts expect XRP to undergo a strong breakout in the near future.
XRP to Soon See Volatility Spike
XRP has seen extreme stability relative to the rally seen late last month, when 10-30% daily swings were commonplace.
Josh Olszewicz, a leading crypto-asset analyst, thinks that this relative stability is likely going to be a precursor to a breakout. Olszewicz shared the chart below recently, showing XRP's 12-hour chart in relation to its Bollinger Bands on the same time frame. The Bollinger Bands is a technical indicator used to denote important technical levels and volatility.
The chart purportedly suggests that the leading cryptocurrency is in the midst of printing a squeeze. XRP could break strongly in either direction, though some think it will continue higher as the broader crypto industry remains in a bullish state.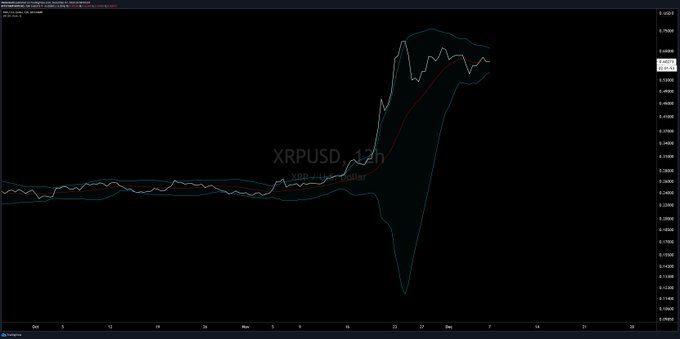 Chart of XRP's price action over the past few months with a Bollinger Bands overlay from crypto trader Josh Olszewicz
Chart source: XRPUSD from TradingView.com
Positive Fundamentals
Boosting XRP's chances at breaking higher, the fundamentals remain positive to neutral. Santiment recently wrote on the cryptocurrency's medium-term trends.
"XRP is making up more ground on BTC in 2020 with a modest +5% in the past day. An encouraging sign is that Ripple's daily active addresses have stayed significantly higher than its year average since spiking two weeks ago."
Analysts think that the cryptocurrency could move higher if it sees increased usage. Though, some argue that there is a looming concern if the XRP holdings being too concentrated in the wallets of a few individuals.
Featured Image from Shutterstock
Price tags: xrpusd, xrpbtc, 
Charts from TradingView.com
XRP Soon to Undergo Pivotal Breakout After Last Month's Rally